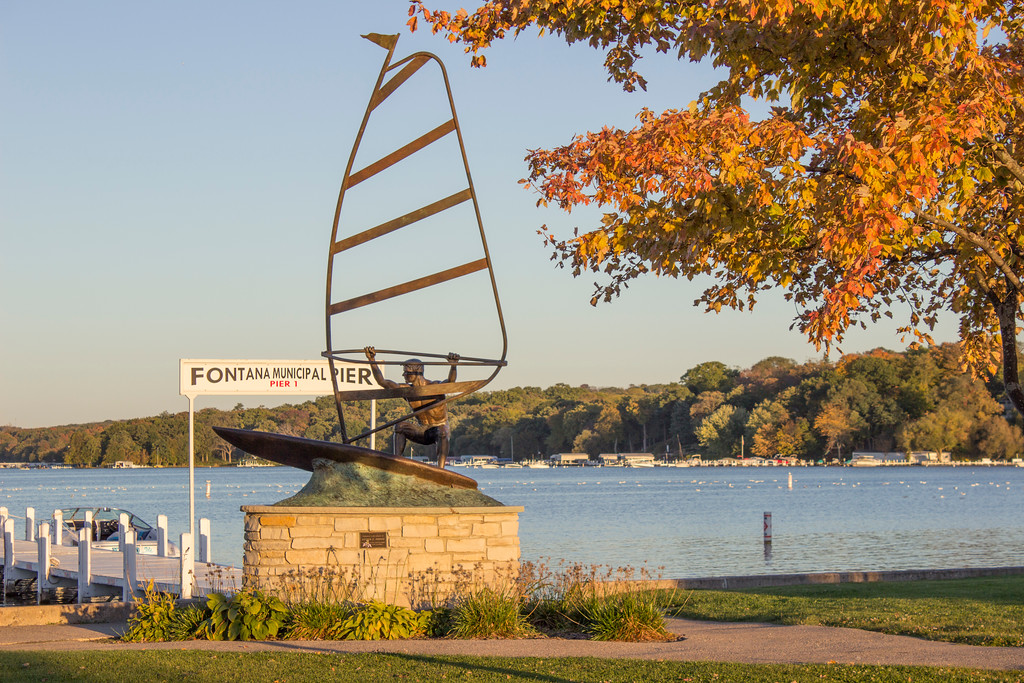 The charming village of Fontana is located on the southwest edge of Geneva Lake, and is a relaxed vacation destination as well as the perfect place to call home. Tree-lined streets welcome visitors along Fontana's Lake Shore drive, adorned with coffee shops, pizza parlors, and waterfront cafes. Fontana-on Geneva Lake is a village with many lakeside activities that include swimming or sun-bathing at Fontana's sandy beach, hiking trails in the Hildebrand Nature Conservancy, and a variety of watersports.
Through the summer months, the beach is decorated with colorful umbrellas and beachgoers during the day and hosts regular "Movies on the Beach" in the evening, when locals and visitors alike gather to enjoy a lakeside flick. The Abbey Resort offers more dining options, recreational activities, and Avani spa services, available to both visitors and locals.
Fontana is home to a brand new state-of-the-art sailing facility, built for the Lake Geneva Yacht Club and Geneva Lake Sailing School, which was founded in 1872. The Yacht Club offers racing, regatta, classes and ongoing social activities throughout the year.
Abbey Hill
Close to Geneva Lake, shopping, restaurants and the beach, this wooded condo association features an association pool and clubhouse. No rental allowed here.
CLICK HERE FOR CURRENT ABBEY HILL LISTINGS
Abbey Ridge
2 and 3 bedroom condominiums with pool access and within walking distance to Abbey Marina, Geneva Lake and beach, Abbey Resort & Spa. 124 units, some with lake views. No pets allowed. No garages.
CLICK HERE FOR CURRENT ABBEY RIDGE LISTINGS
Abbey Springs
The only association in Walworth County offering lake amenities and onsite golf. 592 single family and multi-family condominium residences. Clubhouse with dining, indoor & outdoor pools, tennis courts, pickle ball, lakefront beach, lakefront yacht club, 88 boat slips/14 buoys and dry storage, boat club. Golf cart friendly, gated community.
CLICK HERE FOR CURRENT ABBEY SPRINGS LISTINGS
Abbey Villa
Built in the 1990's, these main level and 2nd floor condos offer 2-3 bedrooms, 1 car garage, guest parking, and association pool. Pets are allowed here. Walk to Geneva Lake, restaurants, beach, Abbey Marina, Abbey Resort and Fontana Park.
CLICK HERE FOR CURRENT ABBEY VILLA LISTINGS
Country Fairways
Just of Hwy BB, this small, 2 story condo association features golf course views and a pool. Covered and surface parking. No garages. Access to Country Club Estates association beach for an additional fee.
CLICK HERE FOR CURRENT COUNTRY FAIRWAYS LISTINGS
Fontana Club
Small, 9 unit condominium association in Glenwood Springs. 2 bedroom condos and some converted 3 & 4 bedroom condos, with several offering spectacular lake views. The Geneva Lake Path runs along the front of this building and residents enjoy the amenities of both Fontana Club and Glenwood Springs Association. Surface parking, no garages.
CLICK HERE FOR CURRENT FONTANA CLUB LISTINGS
Fontana Shores
Located steps from Fontana boat launch, dining, and the beach, this 26 unit condominium was built in the late 1960's. Surface parking. Lake views and proximity are the bonus here.
CLICK HERE FOR CURRENT FONTANA SHORES LISTINGS