The charming village of Fontana is located on the southwest edge of Geneva Lake, and is a relaxed vacation destination as well as the perfect place to call home. Tree-lined streets welcome visitors along Fontana's Lake Shore drive, adorned with coffee shops, pizza parlors, and waterfront cafes. Fontana-on Geneva Lake is a village with many lakeside activities that include swimming or sun-bathing at Fontana's sandy beach, hiking trails in the Hildebrand Nature Conservancy, and a variety of watersports.
Through the summer months, the beach is decorated with colorful umbrellas and beachgoers during the day and hosts regular "Movies on the Beach" in the evening, when locals and visitors alike gather to enjoy a lakeside flick. The Abbey Resort offers more dining options, recreational activities, and Avani spa services, available to both visitors and locals.
Fontana is home to a brand new state-of-the-art sailing facility, built for the Lake Geneva Yacht Club and Geneva Lake Sailing School, which was founded in 1872. The Yacht Club offers racing, regatta, classes and ongoing social activities throughout the year.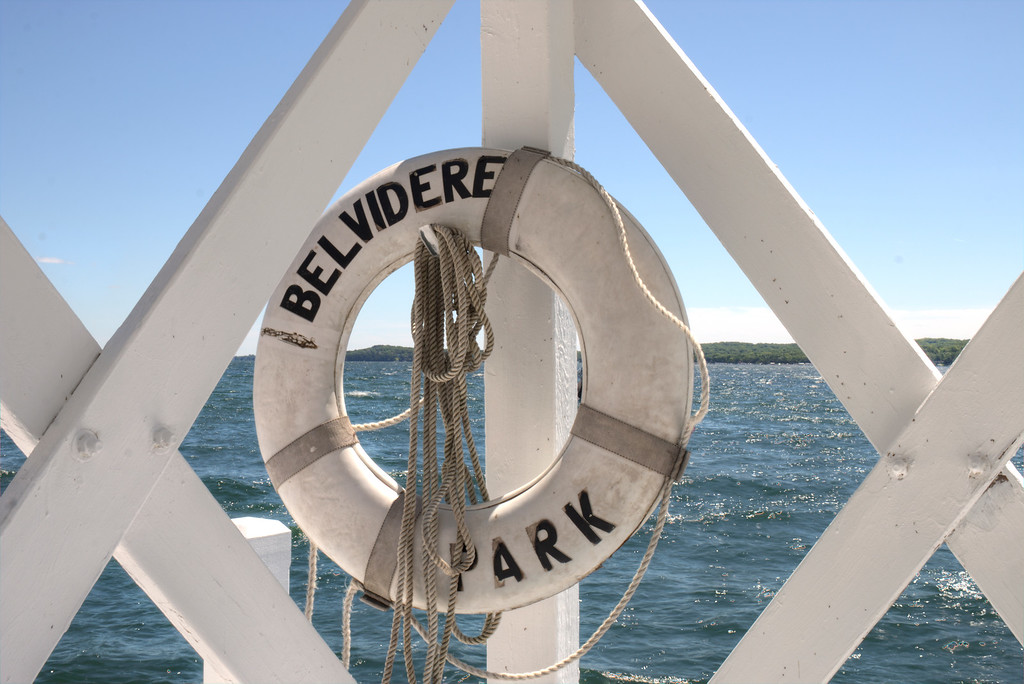 Belvidere Park
Dotting the shores of Geneva Lake you'll find numerous lakefront associations, each with its own personality, pier/boat slip and buoy regulations, amenities, and points to recommend it. This assortment of associations can often be confusing, mystifying – or both. Some associations, such as bucolic Belvidere Park on Fontana's west shore, transfer ownership by a method other than a warranty deed. Purchasing stock, membership in a co-op are both possibilities buyers can see when approaching the closing table. Belvidere Park was the first such "club" formed on the shores of Geneva Lake (1869) and, although it's owners boast enviable 2 car detached garages, they are across North Lakeshore Drive. Plenty of parking is a bonus for this association – not an amenity found in many associations around the lake. With 23 charming cottages, a gently babbling brook, and a lovely lakefront park Belvidere Park is worthy of consideration…even if homes only come on the market every 3-5 years.
CLICK HERE FOR CURRENT BELVIDERE PARK LISTINGS
Lower Brookwood/Brookwood Association
Heading east from Indian Hills, Brookwood Association sits on the border of Fontana Wi and Linn Township. Lower Brookwood (the neighborhood) is a community of 63 home lots. This friendly neighborhood is just a whistle-stop before the Lake Geneva Yacht Club and Buddy Melges Sailing Center. Buyers looking for the ideal lake association location on the south shore of Geneva Lake, proximity to LGYC and Fontana, would be silly not to consider Lower Brookwood and the Brookwood Association.
CLICK HERE FOR CURRENT BROOKWOOD LISTINGS
Buena Vista ClubBuena Vista Club is the next lakefront association you'll find as you head southwest from Belvidere Park. Ranking high on the charm-o-meter, Buena Vista Club offers vintage Geneva Lake but without the rules and regulations that make some lake associations, well, prim. It offers long-time owners (little transience here, thus homes fly off the Multiple Listing Service when they're listed), a winding road or two, a grassy area at the lakefront for Grammie, a high dive (yes, really, right into the lake), and enough lake ambiance to last a lifetime. As if this weren't enough, there's grand views, tennis courts, and a playground…just add sunshine and stir gently. Established over 100 years ago and with less than 70 homes in the neighborhood, Buena Vista Club, Fontana Wi is worth considering.
CLICK HERE FOR CURRENT BUENA VISTA CLUB LISTINGS
Country Club Estates
Developed by Art Jensen in the 1920's, Country Club Estates is a lakefront association that offers a lakefront park with lawn, shade and sandy beach, swim pier, wait list for boat slips, private parking and restrooms, a 9 hole executive golf course and tennis. Most residents drive to the lakefront parking lot to enjoy a day at the lake.
CLICK HERE FOR CURRENT COUNTRY CLUB ESTATES LISTINGS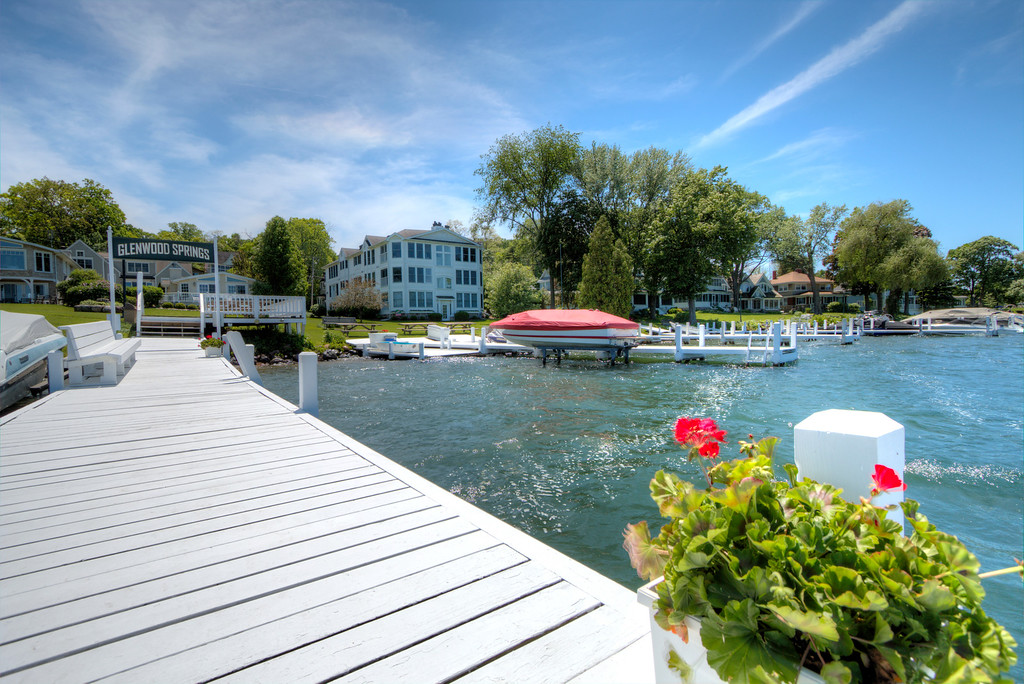 Glenwood Springs
Just south of Buena Vista Club and Fontana-on-Geneva-Lake beach, Glenwood Springs association occupies short, winding roads which converge at the lake. Established in 1892, Glenwood Springs was named after the springs which, according to local historians, once pumped 50,000 gallons of fresh water into the lake each day. Here you'll find the quintessential lake cottage neighborhood; close quarters, mostly bright white cottages with painted trim, neighbors who have vacationed here "forever", and one of the friendliest places on the west end of the lake. This association also has the distinction of having many "lake front" homes that actually share the association lakefront (I know this is confusing). Some real estate agents call these "park front" or "lake view" – both are true; however, if your longing for a lakefront home on Geneva Lake and lower than usual lakefront pricing and taxes, consider Glenwood Springs.

Glenwood Springs Association offers swim and boating piers, enough buoys to meet the needs of the residents (and then some), plus you can easily walk to Chuck's or Gordy's for lunch and a cold drink and make it back to the cottage in time to grab dessert off the kitchen table and head down to the lakefront park for a swim.
CLICK HERE FOR CURRENT GLENWOOD SPRINGS LISTINGS
Harvard Club
Developed by Edward Everett Ayer in the late 1870's, Harvard Club was originally a lakeside camp, with each "owner" having a 25′ square plot of land – just enough for a tent. Today, Harvard Club is seasonal and closes after the summer season. "Ownership" is a "membership" and the legal entity is a leasehold agreement – owners own their house but not the land. Residents share 4 acres of lakefront land, 250′ of frontage and transferable boatslips are available.
CLICK HERE FOR CURRENT HARVARD CLUB LISTINGS
Indian Hills
Rounding the curve, along South Lakeshore Drive, you'll come upon Indian Hills Association – a kissing cousin of Glenwood Springs. Indian Hills Association is a baby compared to its neighbor. Although the association wasn't incorporated until 1945, Indian Hills was originally surveyed, plotted, and recorded almost 20 years earlier. With its expansive lakefront park offering generous shade and beach areas, a floating swim raft and swim pier, and a general milieu of days gone by, Indian Hills is one of those lakefront associations where time seems to stand still. (Click on the link for more information).
CLICK HERE FOR CURRENT INDIAN HILLS LISTINGS