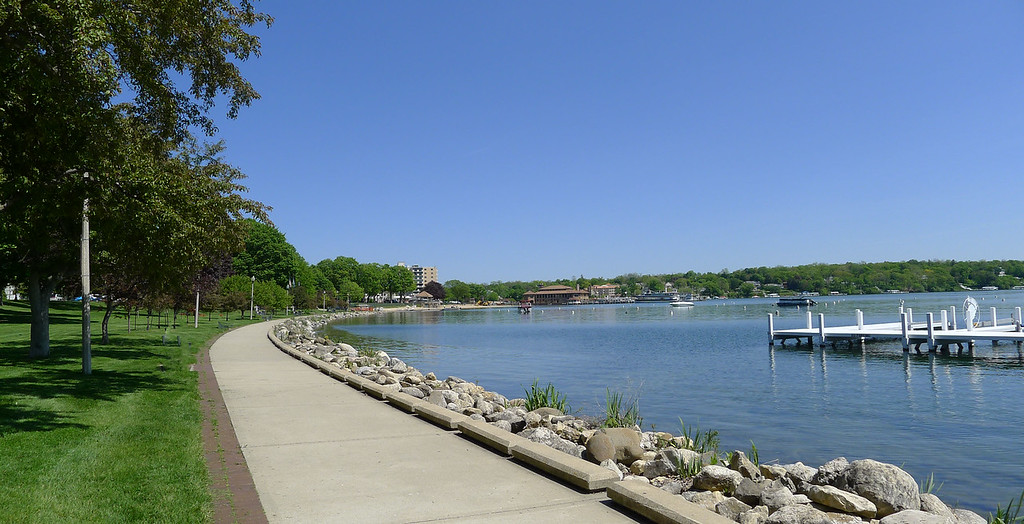 The largest freshwater lake in Southeastern Wisconsin, Geneva Lake has been attracting visitors from all over the Midwest more than 150 years with its abundance of year-round activities. A popular getaway and second home location for Chicagoans, the communities surrounding the lake have active business communities with many dining and shopping options, parks, and frequent local events and festivals.
Residents around Geneva Lake enjoy a public path along the entire distance of the shore, giving residents and visitors access to more than 21 miles of shoreline path. Along the Geneva lakeshore are beautiful and historic lakefront properties plus some mansions, including Stone Manor, the Wrigley Estate, Driehaus Estate and Hillcroft Estate.
Surrounded by several different lake home communities, Geneva Lake is anchored by the city of Lake Geneva on the northeast shore. The smaller village of Williams Bay is located to the west, on the northern edge of the lake, while the village of Fontana is found at the southwest corner of Geneva Lake.
Combined, these lakeside communities offer an abundance of activities and events that encompass the lake year-round. Williams Bay hosts a summer series "Music by the Lake" along with an annual "Santa Cruise" boat tour showcasing Christmas displays along the lakeshore. Lake Geneva hosts the popular Venetian Festival boat parade and annual Winterfest that includes art, a snow sculpture competition and nine days of winter fun and activities.
During the warmer months, Geneva Lake offers sailing, boating, fishing and other watersports, as well as boat cruises—including U.S. Mailboat tours and sunset dinner cruises. The winter months offer ice fishing and boating, cross-country skiing and snow shoeing.
Geneva Lake provides a beautiful lake setting, within commuting distance to the cities of Milwaukee, Madison and Chicago.